Diabetes can cause the small blood vessels at the back of the eye to close off. This can lead to not enough blood getting to the back of the eye (Ischaemia).
The eye's response to this is to grow new blood vessels at the back of the eye.
These blood vessels are in the wrong place and are of the wrong type. They lead to haemorrhage filling the eye with blood (vitreous haemorrhage) and scar tissue pulling the retina out of shape (retinal detachment). At its worst, this can lead to blindness.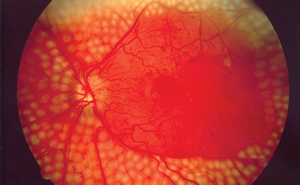 ---
"Thank you for your letter of introduction to Mr Richard Antcliff at the Circle Hospital. Due to his skill, the results of my cataract removals have been beyond my expectations. To be without the need to wear glasses and able to see, thread a needle and read most small print is a joy." Mrs L, Bath
---
The traditional treatment for this is laser treatment (pan-retinal photocoagulation).
One of the potential side effects of pan-retinal photocoagulation is to reduce visual field (the amount you can see to the sides). Previous studies have suggested that between 3 and 20% of patients with pan-retinal photocoagulation to both eyes no longer pass the visual field test to be able to drive legally.
It is known that one of the chemicals involved in the new blood vessels growing is Vascular Endothelial Growth Factor (VEGF).
The American DRCR.net study group has published a study showing that intravitreal Anti-VEGF injections (they used Lucentis) are no worse than laser in treating proliferative diabetic retinopathy, but more importantly that visual field loss is much reduced making it much less likely that patients will lose their driving licence.
In 2 years patients needed between 6 and 13 Lucentis injections (average 10). It is not yet known how many injections would be needed after 2 years but it does appear that the frequency of injections reduces and that the overall severity of diabetic retinopathy improves with Lucentis treatment.
Patients having Lucentis treatment required fewer vitrectomies, less vitreous haemorrhage and were more likely to have the new blood vessels go completely or become stable.
Is it for me?
Pan-retinal photocoagulation is an established treatment that has been proven to work for over 30 years. It is usually carried out over 2 sessions, but may need a further top up (45% of patients in the DRCR.net study needed top up of their laser).
Whilst Anti-VEGF treatment had much less visual field loss, many more treatments were required with the attendant risks of intravitreal injections; the most serious of which is infection.